Deadly stabbing on Japan bullet train

Asia Asia Deadly stabbing on Japan bullet train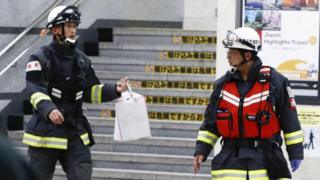 A man has been arrested on suspicion of killing a passenger and injuring two others in a knife attack on a bullet train in Japan, police say.
The fatal stabbing occurred at about 22:00 local time (13:00 GMT) on Saturday on board a Shinkansen train travelling from Tokyo to Osaka.
Police detained the suspect after storming the carriage when the vehicle stopped at Odawara station.
The train was carrying more than 800 passengers at the time of the incident.
Officials say a male passenger taken to hospital with neck wounds later died from his injuries. The other two victims are both women, according to local media.
Apology after train departs seconds early
Japan country profile
What happened?
The suspect, named as Ichiro Kojima, 22, was arrested on suspicion of attempted murder, a local police spokesman told AFP news agency.
Mr Kojima told police he had picked victims at random and had been armed with "multiple bladed objects" on the train, Japanese broadcaster NHK reports.
Witnesses said passengers were in tears as they attempted to flee in panic.
"All of a sudden, a lot of passengers were dashing... people panicked," one male passenger told the Japanese newspaper Mainichi Shimbun.
How common are such attacks?
They are rare in Japan, which has one of the lowest rates of violent crime in the developed world.
In 2015, a man died after setting himself on fire on board a bullet train. A female passe nger was also killed and more than 20 people were injured as the fire and smoke spread throughout the carriages.
Top Stories
War of words erupts after tense G7 summit
President Trump's attack on Canada's PM prompts France to condemn diplomacy by '"fits of anger".
10 June 2018
Fire hits Iraqi ballots ahead of recount
10 June 2018
Indian TV star sorry for Hindu plotline
10 June 2018
Features
What's happening in this G7 picture?
Video
Long watch: Russia's dirty secret
The World Cup in 7 charts
'It feels like the hand of God thrusting you up the road'
Video
The students revising with monks
Video
Dona ting to homeless people using your phone
What makes 'serial poopers' poo in public?
'Blood and money': The story of the Koch brothers
The people rethinking methods of execution
Why you can trust BBC News
BBC News Services
On your mobile
On your connected tv
Get news alerts
Contact BBC News
Source:
Google News Japan
|
Netizen 24 Japan