Inua: Japan on the plate, Noma on the palate

Sorry, but your browser needs Javascript to use this site.
If you're not sure how to activate it, please refer to this site: http://www.enable-javascript.com/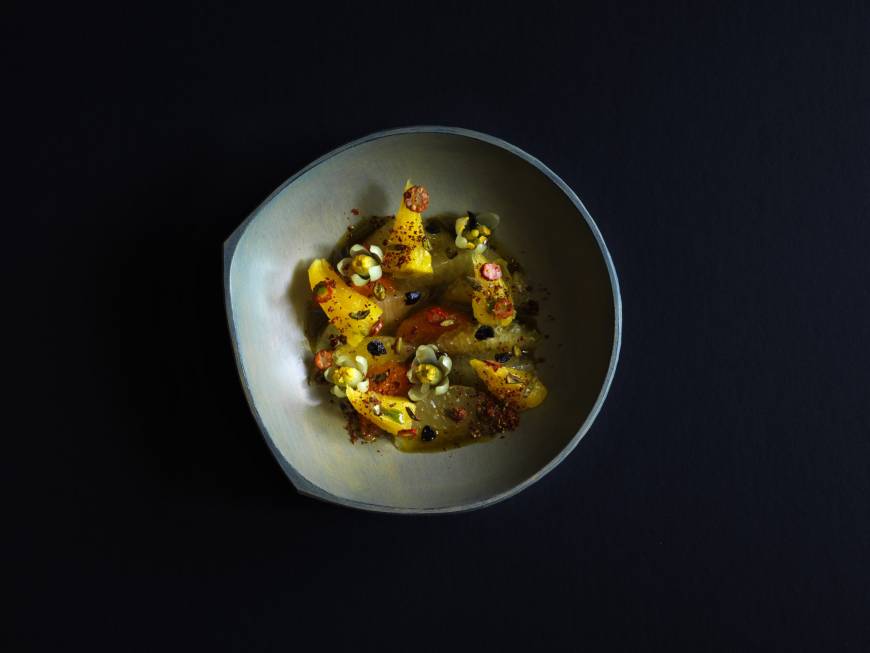 To call Inua the most hotly awaited restaurant this year would be inaccurate. But that's only because its opening, at the very end of June, came a mere matter of weeks after it was first announced. There was little time for the excitement to build.
Even so, word spread fast. After all, any operation that springs directly from the lineage of Noma, the most influential restaurant in Northern Europe, is most decidedly a huge deal. Especially since the man in charge at Inua, Thomas Frebel, spent 10 years in the Noma fold, as both a chef and head of research and development.
Anticipation is rewarded from the very first dish of Frebel's opening summer dinner menu: morsels of snack pineapple â€" so called because the flesh of the fruit pulls away with each scale â€" paired with small segments of yuzu and other citrus bathed in a rich oil infused with caramelized konbu (kelp).
The shared Noma DNA shines through in the complexity and juxtaposition of flavors, the floral garnish and the unorthodox accents of fermentation. The sharp sweetness of the pineapple set against the tart, juicy citrus, the prickle of chili and, underlying all, the deep umami of the konbu, exotic and compelling.
At the same time, this dish serves as a manifesto for Frebel's own mission. He sources the pineapple from Ishigaki in Okinawa Prefecture, the konbu from Rishiri Island off Hokkaido and the citrus from the mild microclimates of Kochi Prefecture, on the southern coast of Shikoku. Starting with your very first bite, you're tasting the length and breadth of the country, filtered through his distinctly European viewpoint.
Frebel first visited Japan ahead of Noma's much-hyped five-week residency at the Mandarin Oriental, Tokyo, in winter 2015. He then spent another two years here exploring the bounty of the land and sea, laying the groundwork for his menu at Inua.
His guiding principles are much the same. His aim is to showcase Japanese ingredients exclusively, but present them with his own Nordic aesthetic. Not content to limit himself to the everyday produce found in the markets, he has foraged, dived, hunted and harvested across Jap an in search of the fruits, vegetables, wild herbs, nuts, seaweeds, fungi and flowers that give his cuisine such character.
Initially at least, Frebel's focus is on the vegetable kingdom. He promises more meat and fowl in his autumn/winter menu but, for now, his cooking is close to vegetarian. Seafood appears in some dishes, but the main magic is performed with mushrooms.
Halfway through the meal, he comes to the table to show you his signature dish. The pan he holds contains a giant maitake (hen of the woods), that has been dry-aged for almost a week, infused with kōji (the starter fungus used in making sake and miso), and then slow-smoked for days on end. Finally braised in a stock made from dried pine needles and served in its rich cooking juices, it is so satisfying, you barely notice the absence of animal protein. This is kitchen alchemy at its most audacious.
For those who did not experience the Noma pop-up, Inua offers a sense of what th ey might have missed. But it is also very different. For a start, the physical space is so much better. Occupying the top floor of the Kadokawa Corporation's Fujimi Building (the publisher is Noma's partner in Inua), it is beautifully laid out, with a big open kitchen in sight and earshot of almost all 50 seats in the main dining room.
From the clean, simple lines of the wood furniture to the custom-made crockery and elegant cutlery, the Scandinavia-meets-Japan look extends to the lounge, where you adjourn after the main meal for some light desserts with coffee or tea.
Some caveats are in order. The Inua team has been assembled from scratch, and are certainly not up to full speed yet. Inevitably there is some hesitancy, and more Japanese speakers are needed in the front-of-house team, especially for such a big-ticket restaurant. Hopefully there will also be more homegrown wines added to the drinks pairing.
Nonetheless, Inua is very special. Ambitious in its vis ion and execution, this is surely the most exciting opening we will see all year.
Kadokawa Fujimi Bldg. 9F, Fujimi 2-13-12, Chiyoda-ku, Tokyo 102-8552; 03-6683-7570 inua.jp; open 5-11 p.m.; closed Sun. & Mon.; dinner menu ¥29,000; wine pairing from ¥16,000, juice pairing ¥10,000; nearest station Iidabashi; nonsmoking; major cards accepted; English menu; English spoken
LATEST FOOD & DRINK STORIES

Edamame: Eat them fresh and green, with a beer or two

Edamame, or immature green soybeans, are the quintessential snack to have with an ice-cold beer, especially in summer. Their popularity has spread around the world in recent years, but t...
Booking services secure tables, but at what price?

Raaisha Janghir had done her homework prior to visiting Japan in 2016. Months before her trip she created a spreadsheet and started collating a wish list of restaurants she wanted to visit. ...

Don't scoff at vanilla: Seven-Eleven's Waffle Cone Milk Vanilla is simply delicious

Most media â€" Konbini Watch included â€" get a kick out of novelty offerings. Offbeat flavors and clear beverages nab headlines, but sometimes basic quality rises above the rest. That's...
Source:
Google News Japan
|
Netizen 24 Japan