The food in the Japanese monastery was 'basic and vegetarian'. What did you expect?

Japan holidays The food in the Japanese monastery was 'basic and vegetarian'. What did you expect? Liz Boulter
A recent online spat between tourists and a Buddhist monk highlights the culture gap that can crop up when travelling abroad. But aren't such differences one of the joys of travel?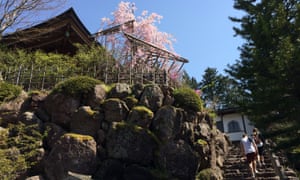 The recent news of a Buddhist monk's angry outburst at negative online reviews made me smile. Visitors complaining about meals being "basic and vegetarian" at a monastery is like criticising a steakhouse for having too much meat on the menu. So I did scoff initially at the idea of people travelling in Japan â€" and to a monastery â€" and not being prepared for "strange" meals that are "quite unlike any food I've ever tasted".
But maybe (American-born) Shingon priest Daniel Kimura was being unfair â€" and the term "uneducated fuck" is certainly intemperate. The comment isn't necessarily negative: eating food unlike any you've tasted is one of the great joys of travel, and perhaps the person posting meant only to alert others to its unexpected nature.
Mount Kōya, or Koyasan, 85km south of Osaka, is the centre of the Shingon Buddhist sect, with over 100 temples in a small mountaintop town, 52 of which offer shukubo, or guest quarters (doubles from £120 a night full-board). It's reached by train and funicular through spectacular wooded mountains and very we ll set-up for tourists, with helpers directing visitors to the right bus for their lodgings.
The peaceful town is a bit like Oxford or Cambridge, except instead of ancient colleges, the streets are dotted with temple complexes, and monks clip-clop around in wooden geta sandals.
There's no privation, though: en suite rooms have wifi and in-room dining. When I stayed in a Koyasan monastery last year the food was certainly unlike any in the west â€" and indeed unlike much in the rest of Japan. Homemade, healthy and vegan, it was beautifully presented, and served on lacquer trays with tiny legs, as we sat on floor cushions. It was full of strange textures, though â€" and oddly bland. There was a big fuss about goma dofu, starchy squares made from a root vegetable that's hard to dig up, hard to process â€" and hard to understand: texture a bit like blancmange, flavour barely discernible. It is apparently high in protein, though.
But hey, if you want fam iliar foods or luxury lodgings, you don't do a temple stay. The old buildings and gardens are lovely and guests can join in evening meditation, 6.30am prayers and a dramatic 7am fire service. Each evening a monk leads a visit to Okunin cemetery, the holiest in Shingon, which is atmospheric, peaceful and not spooky at all.
Topics
Asia
Japan
Food and drink
Cultural trips
Buddhism
comment
Share on Facebook
Share on Twitter
Share via Email
Share on LinkedIn
Share on Pinterest
Share on Google+
Share on WhatsApp
Share on Messenger
Source:
Google News Japan
|
Netizen 24 Japan