Dealing with disaster in Japan

Sorry, but your browser needs Javascript to use this site.
If you're not sure how to activate it, please refer to this site: http://www.enable-javascript.com/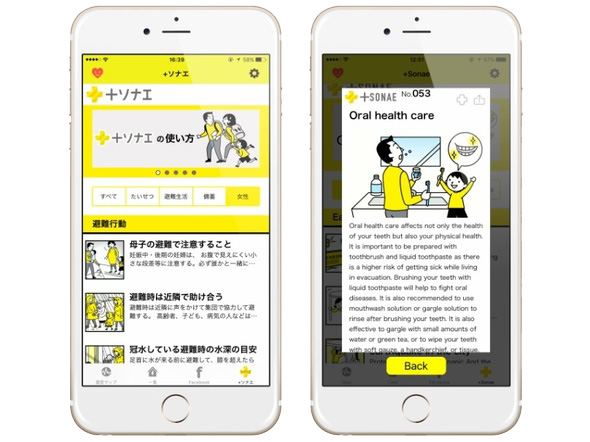 It's been a tough month for Japan. First the biggest typhoon in 25 years blew through the western region, then a major earthquake in Hokkaido swiftly followed. Both wreaked havoc and recovery is still in process. This month, On Tech takes a look at apps offering disaster prevention information and other services for those looking to stay alert and prepared.
Prevention and information
Yurekuru Call is a Japanese earthquake alarm app that became particularly popular after the Great East Japan Earthquake. With i ts alert information already available in English, last year the app added an English translation of its +Sonae disaster prevention information service. +Sonae provides advice via easy-to-understand-illustrations and articles that can be accessed via the Yurekuru Call app.
There are three column topics â€" Evacuation Life, which covers evacuation processes and shelter instuctions; Stockpiling Resources, which gives tips on disaster prevention measures for the home, managing disaster supplies and information on mental healthcare, disease control and other issues and Women's Perspective, which is aimed at parents as well as pregnant women, offering advice on dealing with infants and locations of emergency supplies. Anything of interest can also be bookmarked for quick reference, a useful feature for those traveling to Japan and worried about potential disasters.
The Yurekuru Call app is free via iTunes or Google Play, but since it utilizes the Japan Meteorological Agenc y's Earthquake Early Warning system it can only offer alerts, reports and other information about Japan. Other countries are not covered.
www.rcsc.co.jp/yurekuruen bit.ly/yurekuruitunes, bit.ly/yurekurugooglep
Finding help in your pocket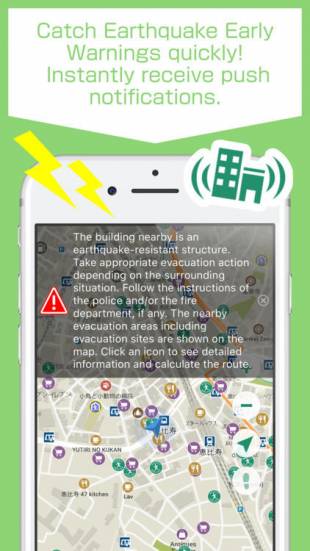 PocketShelter also offers disaster prevention information, but should you find yourself in the midst of an emergency, it can also give you the route to the nearest evacuation site.
At other times, PocketShelter offers sight-seeing and transport information. In the case of an emergency, however, it automatically switches into "disaster mode" and alerts users of breaking news alongside the map.
Most useful is that PocketShelter can be used offline if the map is downloaded in advance. The GPS destination search, map display and voice navigation will all function even if there is no interne t connection. More than 180,000 evacuation centers, water supply facilities and hospitals are registered on the map, and you can sort them via category.
In addition to all this, the app will use mobile-phone information to inform its user of the safety level of his or her location and it can send safety confirmation emails to registered personal contacts.
Another free download, PocketShelter supports Japanese, Simplified Chinese, Traditional Chinese, Korean and English, and is available via both iTunes and Google Play.
root-co.net/play/item/playfulbase-lantern-speaker-bottle bit.ly/pocketshelteritunes, bit.ly/pocketsheltergooglep
Staying updated across the world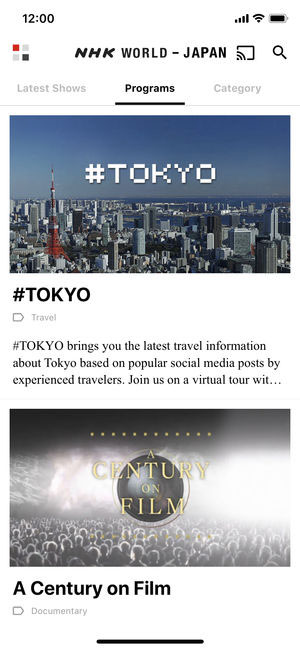 For those overseas looking to keep an eye on disaster news updates, not many services support multiple languages. For video information, however, the NHK World TV app changes its program schedule to focus on news in the case of a national disaster. As a public broadcasting channel, there are no commercials, so no matter when you check in, it won't be long before the latest news is aired.
Naturally, under normal circumstances, the channel will run regular news and other programs and it's regular weather forecasts are a good source for keeping an eye on any extreme changes ahead. There is also a NHK World Radio app for those who prefer to just listen to news and information. Both apps are free to download.
www3.nhk.or.jp/nhkworld bit.ly/nhkworlditunes, bit.ly/nhkworldgooglep
LATEST DIGITAL STORIES

Are you ready for September?

Don't miss Tokyo Game Show It's that time of the year again, when Tokyo Game Show enthralls, surprises and delights gamers with the latest releases, upcoming titles and a nnouncements. ...

Listen to the sound of new technology

Bathe yourself in music Singing in the shower, one of the private pleasures of daily bathing that many of us enjoy, is far better when you have musical accompaniment, which isn't that eas...

Great games for all platforms

'Minecraft' creeps into Nintendo This New Nintendo 2DS LL "Minecraft" edition is one of Nintendo's most unusual releases to date. The console's cover shows the face of a Creeper, "Minecra...
Source:
Google News Japan
|
Netizen 24 Japan